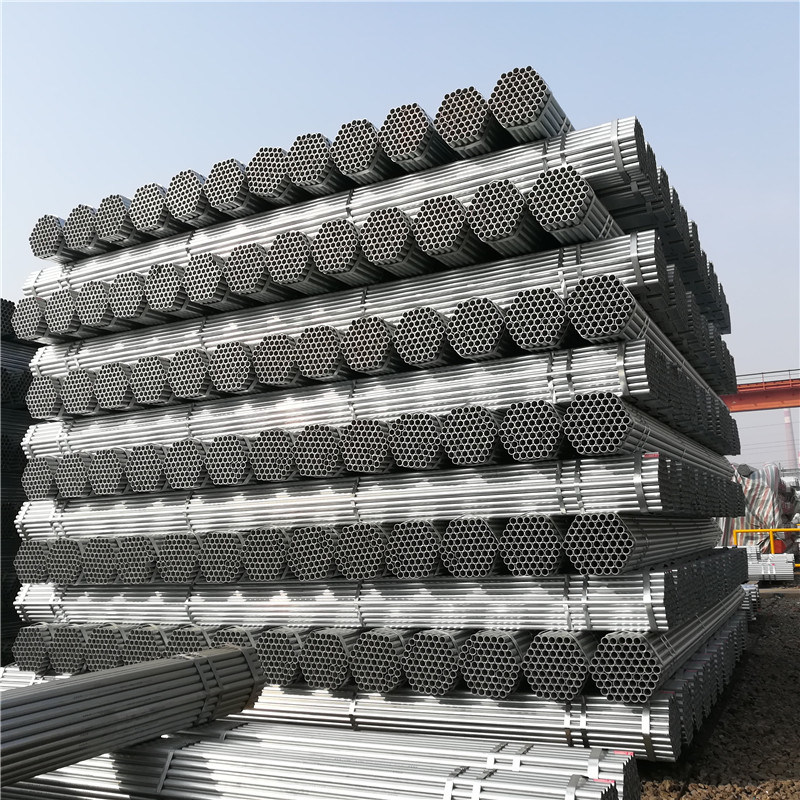 Black Steel Pipe vs Galvanized Steel Pipe
Homes need gas and water in order to run comfortably. Gas provides heat and fire to cook food and we cannot live without water. Pipes are used to carry these essential materials into homes, buildings, and other construction projects to convey or carry gas and water to supply their needs. Two of the most widely used pipes are black pipe and galvanized pipe.
Black pipes are also called steel pipes and are used to carry water and gas from their sources to the end users. It is the pipe that is used by businesses and homes to convey their supply of natural or propane gas.
It is also used for fire sprinkler systems because of its strong resistance to heat. Heating and cooling water transferred to heat exchangers also use black pipe. It is usually joined by welding or by using mechanical couplings.
While it is used mainly for gas lines, it is also used to connect appliances to their supply lines. In drain lines, heating piping, and natural gas piping, black pipe is used. It can even be used instead of galvanized pipe in projects other than carrying water for drinking.
Galvanized pipe is a steel pipe which is covered with zinc. The zinc increases the pipes life expectancy and makes it more resistant to corrosion and mineral deposits in the line. It is a plumbing material that is used in water supply lines and has been used in homes for more than 30 years.
It cannot be used for gas lines because the zinc can clog the lines when it begins to flake, but it has many other uses. It can also be used in outdoor railings, scaffolding, fence, sewage plumbing, and farm irrigation and it is best used for bigger construction projects and has a life expectancy of 40 years.
Although the zinc that coats galvanized pipe can prevent corrosion, it corrodes quicker than copper or PVC pipes. Aside from this, it contains lead which can be harmful. It is also more expensive than black pipe. The flaking of the zinc in galvanized pipes can cause pipes to burst.
While there are now safer and stronger pipes made from materials other than steel, black pipes and galvanized pipes are still very popular and are being used in homes and buildings.
The thing to remember is to use them according to the specifications of the project and to use only one type of pipe in conveying water or gas to your homes. It is not advised to combine two types of piping material.
The Details Of Hot dipped Galvanized Pipe:
Galvanized pipe is coated with zinc and metal. This makes them more durable than
older pipes which were crafted from steel or iron. These pipes also have added protection,
because the coating of zinc prevents issues with corrosion.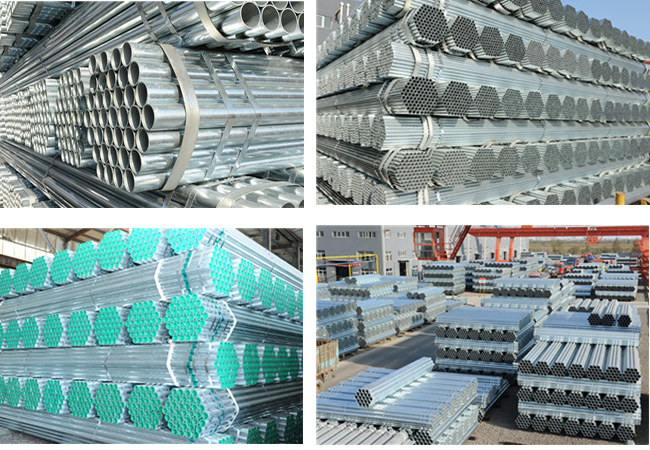 Product Name
hot dipped galvanized steel pipe
Size
OD: 21.3mm ~ 610mm
Thickness: 1.0mm ~ 24mm
Length: 1m – 12m
Standard
GB/T-3091-2008, ASTM A53, BS1139, BS1387, BS EN39 etc
Grade
China Grade: Q215,Q235,Q345
International Grade: ASTM A53, API 5L, BS1139 Type 4 etc.
Packing and Shipping
Small Pipe: Packed in Bundles
Big Pipe: Packed in Bulk
Pipe length more than 12M: Bulk Vessel
Certificate
ISO9001:2008, SGS
Inspection
With chemical composition and Mechanical Properties Analysis;
Dimensional and Visual inspection, also with nondestructive inspection.
Delivery time
1~35 days based on different quantity and different size.
Payment Term
30% T/T as deposit, Balance against copy of B/L OR L/C at sight
Pipe / Tube Ends Treatment  
Plain Ends , Beveled Ends, Theared Ends, Round Grooveed Ends, Threaded Ends one end with
coupling and one end with plastic caps, or accorsing to customers' requirement.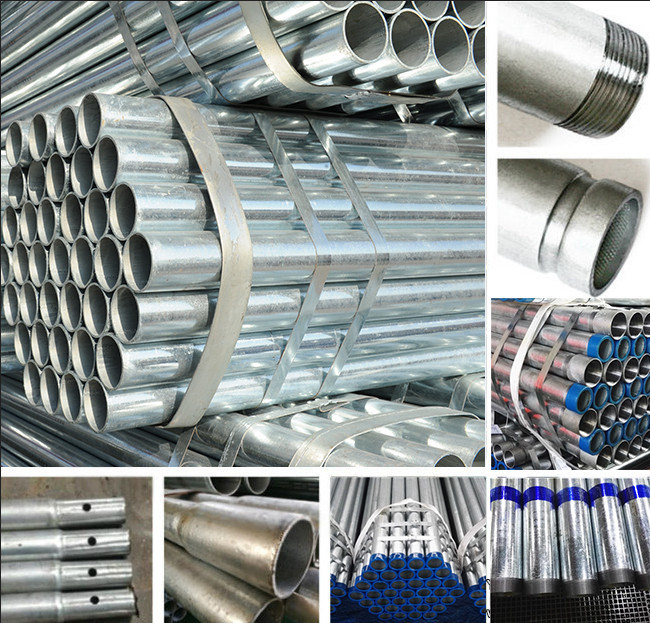 Quality Control: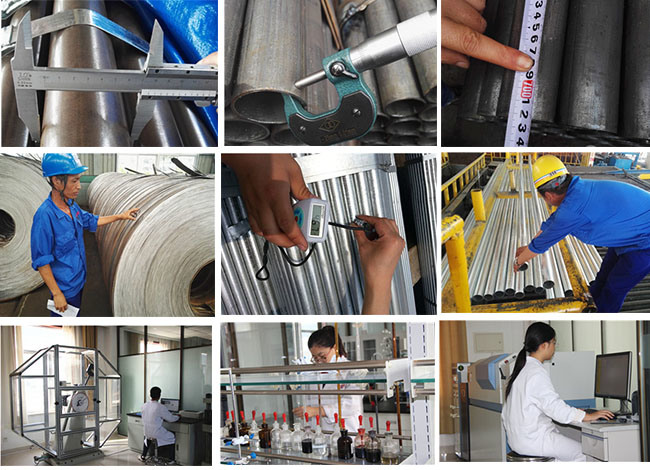 .
ASTM A53 4inch Black Painted ERW BLACK Steel Pipe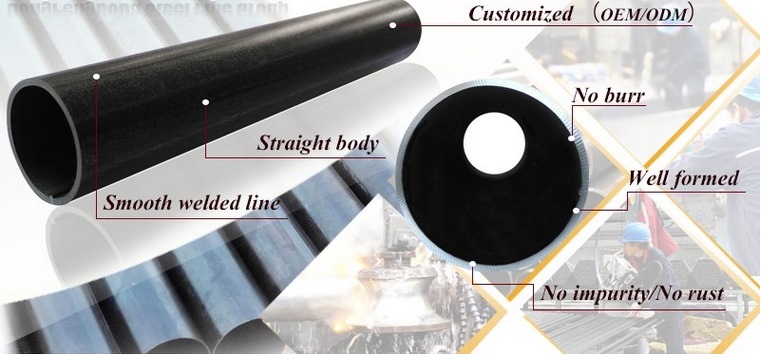 Product Description
ERW welding round pipesalso are called as Electric Resistance Welded Pipes.This type of steel pipes and tubes are widely used in various fields such as engineering purposes, fencing, scaffolding, line pipes etc. ERW steel pipes and tube are available in various qualities, wall thicknesses, and diameters of the finished pipes.
Outer Diameter
20~610mm
Wall Thickness
0.95~17.75mm
Length
3-12M according to client requirement
Standard
EN10025, EN10219, EN10210, EN39, BS1387, 
ASTM A53, ASTM A500, ASTM A36, API 5L, ISO 65
JIS G3444,DIN 3444, ANSI C80.1, AS 1074, 
GB/T 3091
Material
Gr.A, Gr.B, Gr.C, 
S235, S275, S355, 
A36, SS400, 
Q195, Q235, Q345
Certificate
ISO 9001:2008,SGS, BV, CCIC etc
Finish of pipe
Hot dipped galvanized with zinc 220~260g/m2;
Painted with black/varnish lacquer;
Oil on the surface to prevent rust;
Bare pipe without painting:
Epoxy painting/FBE coating/3PE coating
Pipe End
Plain end/ Bevel end; 
Threaded on two ends, one end with coupling, one end with plastic cap
Marking
As per client requirement or mill standard
Packing
OD not less than 273mm: Loose packing,piece by piece.
OD less than 273mm: In hexagonal seaworthy bundles packed by steel strips.
small sizes nested into big sizes.
Applications
Construction / building materials steel pipe
Scaffolding pipe
Fence post steel pipe
Fire protection steel pipe
Greenhouse steel pipe
Low pressure liquid, water, gas, oil, line pipe
Irrigation pipe
Handrail pipe
Techinical
ERW (high – frequency welded)
Trade Term
FOB, CFR, CIF, EXW, FCA
Payment Term
T/T, LC
Delivery Time
15-45 days (based on quantity) after receiving advanced payment by T/T or LC .
Main Market
Southeast Asia, South Asia, Middle East, Europe, 
Middle&South America, Africa and Oceania
Detailed Specifications:
Outside Diameter
Wall Thickness
DN
Inch
mm
mm
15
1/2″
20~21.3
0.95~2.77
20
3/4″
25~26.9
1.1~2.87
25
1″
32~33.7
1.1~4.0
32
1 1/4″
40~42.4
1.1~4.0
40
1 1/2″
47~48.3
1.5~7.0
50
2″
58~60.3
1.8~7.0
65
2 1/2″
73~76.1
2.0~7.0
80
3″
87~88.9
2.2~8.0
90
3 1/2″
101.6~102.1
2.2~9.0
100
4″
113~114.3
2.2~9.0
125
5″
140~141.3
2.5~10.0
150
6″
165~168.3
2.5~10.0
200
8″
216~219.1
2.75~12.0
250
10″
272.8~273.2
5.0~13.75
300
12″
323.8~325
5.5~13.75
350
14″
355.6~356
5.5~13.75
400
16″
406~406.4
5.75~13.75
450
18″
457~457.2
5.75~17.75
500
20″
507.9~508.1
5.75~17.75
600
24″
609~610
5.75~17.75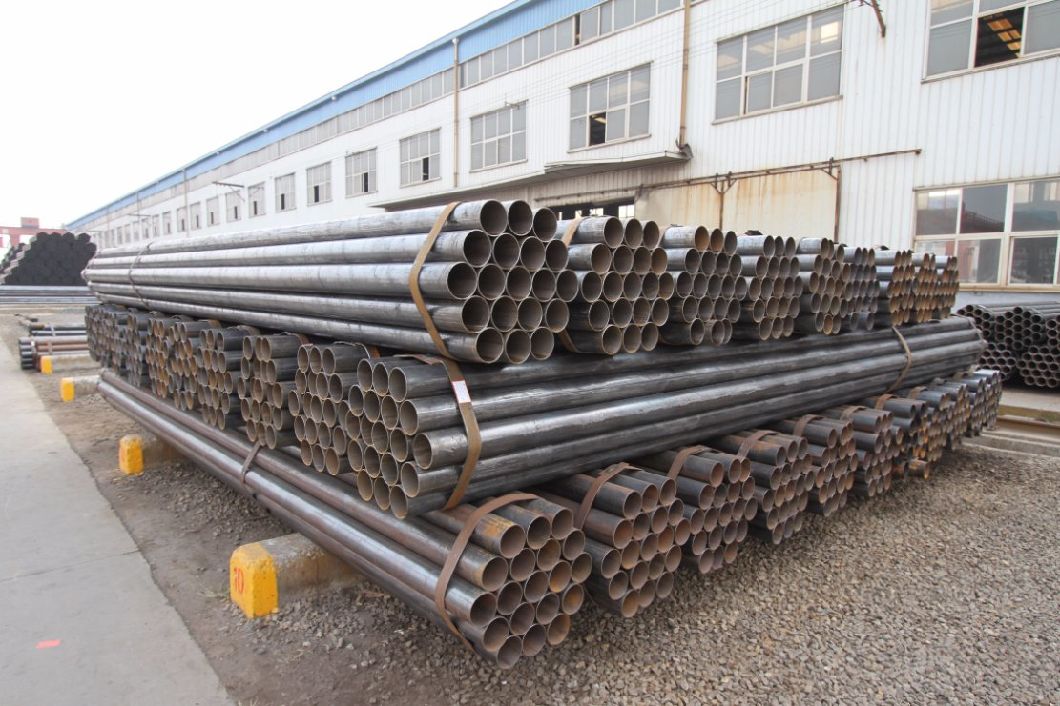 Summary
1. Black pipe is made of steel as is galvanized pipe. The difference is that galvanized pipe is coated with zinc, while black pipe is not.
2. Black pipe is best used for gas lines, not for water lines because it rusts easily, while galvanized pipe is the safer pipe to use in water lines, but it cannot be used to convey gas.
3. Black pipe is cheaper than galvanized pipe because of the zinc that is added to galvanized pipe.