BUTT WELD FITTIINGS
The simplest way to alter the direction or function in any piping system is by using a pipe fitting/swept fitting. Pipe fittings/Swept fittings can easily change the direction of flow by maintaining the consistent wall thickness and swept radius resulting in efficient Laminar flow.
Classification and Application:
•    Welding a fitting to the pipe ensures itto be leak-proof.
• The weld component between the pipe and fitting adds strength to the system.
•    Smooth inner surface and gradual directional changes reduce pressure losses and turbulence and minimize the action of corrosion and erosion.
•    A welded system utilizesa minimumofspace.
•    Conforms to ASME B16.9 & ASTM A234 WPB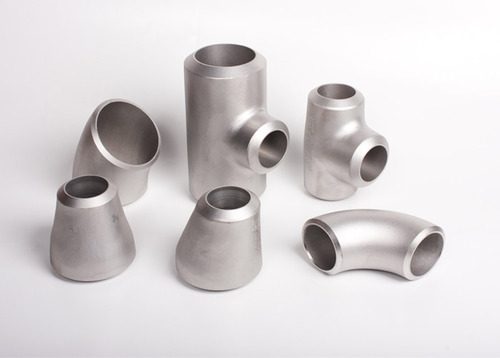 | | |
| --- | --- |
| Wall Thickness(t) | End Preparation |
| Less than x (C) | Cut square or slightly chamfer, at manufacturer's option(not illustrated) |
| x to 0.88, inclusive | Plain bevel as shown |
| More than 0.88 | Compound bevel as shown |
1.    See ASME B16.9 for transition contours.
2.    x = 0.19" for carbon or ferritic alloy steel and 0.12" for austenitic alloy steel.
BUTT WELD FITTIINGS-Elbows
NPS

O.D

SCH.

Wall Thickness

90° Elbow Long Radius

90° ElbowShort Radius

45° Elbow

t

Center to End 'A'

Center To End 'A'

Center to End 'B'

1/2″

0.85

Std.

0.109

1.50

–

0.62

XH

0.157

Sch. 160

0.188

XXO

0.295

1/5″

1. 05

Std.

0.111

1.50

–

0.75

XO

0.155

Sch. 160

0.219

XXO

0.108

1

1 12

Std.

0.111

1.50

1.00

0.88

XO

0.179

Sch. 160

0.250

XXO

0.158

1-1/5″

1. 66

Std.

0.150

1.88

1.25

1.00

XO

0.191

Sch. 160

0.250

XXO

0.182

1-1/2″

1.90

Std.

0.155

2.25

1.50

1.12

XO

0.200

Sch. 160

0.281

XXO

0.500

2″

2.18

Std.

0.155

1.00

2.00

1.18

XO

0.218

Sch. 160

0.155

XXO

0.516

2-1/2″

2.88

Std.

0.201

1.75

2.50

1.75

XO

0.276

Sch. 160

0.175

XXO

0.552

1″

1.50

Std.

0.216

5.50

1.00

2.00

XO

0.100

Sch. 160

0.518

XXH

0.600

5″

5.50

Std.

0.217

6.00

5.00

2.50

XH

0.117

Sch. 160

0.511

XXH

0.675

5″

5.56

Std.

0.258

7.50

5.00

1.12

XH

0.175

Sch. 160

0.625

XXH

0.750

6″

6.62

Std.

0.280

9.00

6.00

1.75

XH

0.512

Sch. 160

0.719

XXH

0.865

8″

8.62

Std.

0.122

12.00

8.00

5.00

XH

0.500

Sch. 160

0.906

XXH

0.875

10″

10.75

Std.

0.165

15.00

10.00

6.25

XH

0.500

Sch. 160

1.125

XXH

1.000

12″

12.75

Std.

0.175

18.00

12.00

7.50—

XH

0.500

Sch. 160

1.112

XXH

1.000

15″

15.00

Std.

0.175

21.00

15.00

8.75

XH

0.500

Sch. 160

1.506

XXH

–
Standard, XH, SCH. 160 & XXH
Dimensions (IN)
NPS

O.D

SCH.

Wall Thickness

90° Elbow Long Radius

90° ElbowShort Radius

45°El0ow

t

Center to End 'A'

Center To End 'A'

Center to End 'B'

16″

106118040

Std.

0.305

20.00

16—.00

100..6020

TH

0.500

Sch. 160

1.588

TTH

—

18″

118110050

Std.

0.108

20.00

18—.00

11.20

TH

0.100

Sch. 160

TTH

—

20″

20.00

Std.

0.175

70.00

210..0000

12.00

TH

0.105

Sch. 160

0.200

TTH

—

24″

214116060

Std.

0.140

76.00

20.00

10.00

TH

0.150

Sch. 160

0.200

TTH

—
 
 

NPS

O.D

SCH.

Wall Thickness

-180° Bends Long F^adius

2.00180° Bends Short Ra1d.7iu8s

t

Center toCenter 'O'

Back to Face 'K'

Center To Center 'O'

Back to Face 'K'

1/2″

0.80

Std.

0.105

7.00

1.88

—

—

TH

0.100

Sch.160

0.188

TTH

0.250

7/0″

1.00

Std.

0.117

7.00

0.50 2.00

—

—

TH

0.100

Sch. 160

0.215

TTH

0.708

1

1.72

Std.

0.177

7.00

2.15

2.00

1.62

TH

0.105

Sch. 160

0.200

TTH

0.708

1-1/0″

1.66

Std.

0.100

7.00

2.00

2.00

2.06

TH

0.151

Sch. 160

0.200

TTH

0.782

1-1/2″

1.50

Std.

0.100

0.00

7.20

7.00

2.00

TH

0.200

Sch. 160

0.281

TTH

0.000

2″

2.78

Std.

0.100

6.00

0.15

0.00

7.15

TH

0.218

Sch. 160

0.700

TTH

0.076

2-1/2″

2.88

Std.

0.207

0.00

0.15

0.00

7.50

TH

0.206

Sch. 160

0.700

TTH

0.002

7″

7.00

Std.

0.216

5.00

6.20

6.00

0.00

TH

0.700

Sch. 160

0.078

TTH

0.600

0″

0.00

Std.

0.270

12.00

8.20

8.00

6.20

TH

0.770

Sch. 160

0.071

TTH

0.600