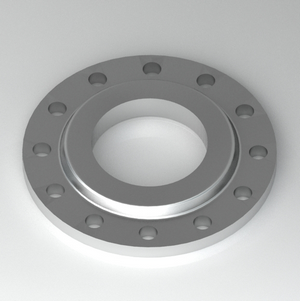 SO Flange
Slip-On flanges or SO flanges GOST 12820-80  PN 1.6 Mpa are commonly lower in price than weld-neck flanges, and to this effect are a popular choice for our customers.
Standard:GOST 12820-80, ASME B16.5
Type: Plate Flange, SOP Flange (Raised Face)
Pressure: PN1.6Mpa
Sealing face of the slip on flange: RF and FF
Size: DN15 – DN2000
Raw Material: Q235, RSt37.2, C22.8, S235JR, A105
Process: Forged, Stamped
The inner bore of the slip on flange is a little larger than the pipe OD, to make sure the pipe or fitting end can slip into the flange. When welding a slip on flange to a pipe, the welder should make some temporary tack weld to fasten the alignment between the pipe and flange, then the welder carry out the fillet weld around the end of pipe to the inside of the slip on flange, and another fillet weld also should be done around the back end of the flange and the outside of pipe. The two fillet welding can make sure the quality for the joint between pipe and flange.
Sealing Face of Slip On Flange:
The slip on flange is commonly supplied with the flat face (FF), raised face(RF) , they are not used widely in high pressure conditions.
Contact person: Irina Li
E-mail: Pipes2018@163.com