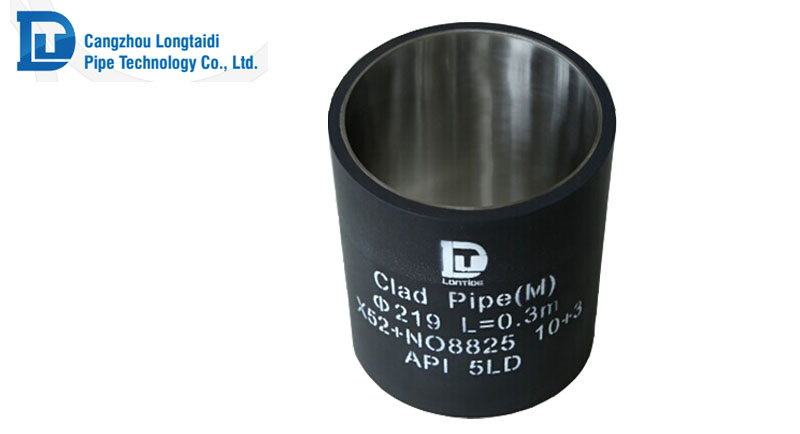 CLAD PIPING
Weld Overlay is a process governed by API 5LD. Weld Cladding provides comparable wear and corrosion resistance at a fraction of the cost of solid alloy solutions. Our weld overlay utilizes multiple layers of nickel alloy on a carbon steel backing which is accomplished with minimal diffusion of the substrate.The finished material will greatly increase service life compared to carbon solutions. In addition to pipes and tubes, the technology can be applied to virtually any fitting or piece required for fluid transportation, proving especially useful in sour oil field service. It can be used anywhere increased that corrosion and wear resistance properties are required.
Base Material of Pipes:
ASTM A53 B, A106 Gr. B, API 5L B, X42, X52, X56, X60, X65,X70; ASTM A333 GR.6, GR.3 Stainless Steel
Backing Material:API Spec 5L ASTM A333 ASTM A106
Lining Material:LC1812 LC2205 UNS S317030 S31803 S30400 S30403 S31600 S31603 S32100 N08904 N08825 N06600 N04400
Nonferrous metal such as Titanium, Copper, Aluminum, etc
Backing pipe OD: 21.3~711mm
Backing pipe WT: 3~60mm
Line pipe WT: 0.5~6mm
Length range:≤12500mm
Fully customizable to meet your specific environmental needs.
we are engaged in producing a wide range of Weld Fittings, Stainless Fittings, Steel Fittings, Pipe Fittings, Steel Pipe Fittings, Stainless Steel Fittings, Butt Weld Fittings, Carbon Steel Fittings, Stainless Steel Pipe Fittings, all are butt weld, including Long Radius 90 Degree Elbow, Short Radius 90 Elbow, Extra Long Radius 90 Pipe Elbow, Long Radius 45 Degree Elbow, Short Radius 45 Elbow, Extra Long Radius Elbow 45, Long Radius 180 Elbow (Pipe Bend), Short Radius 180 Pipe Elbow (180 Return Bend) , Extra Long Radius 180 Tube Elbow (180 Return Bend), Equal Tee, Reducing Tee, Y Branch Tee, Cross, Reducing Cross, Eccentric Reducer, Concentric Reducer, Lap Joint Stub End and Pipe Cap in stainless steel and carbon steel material.