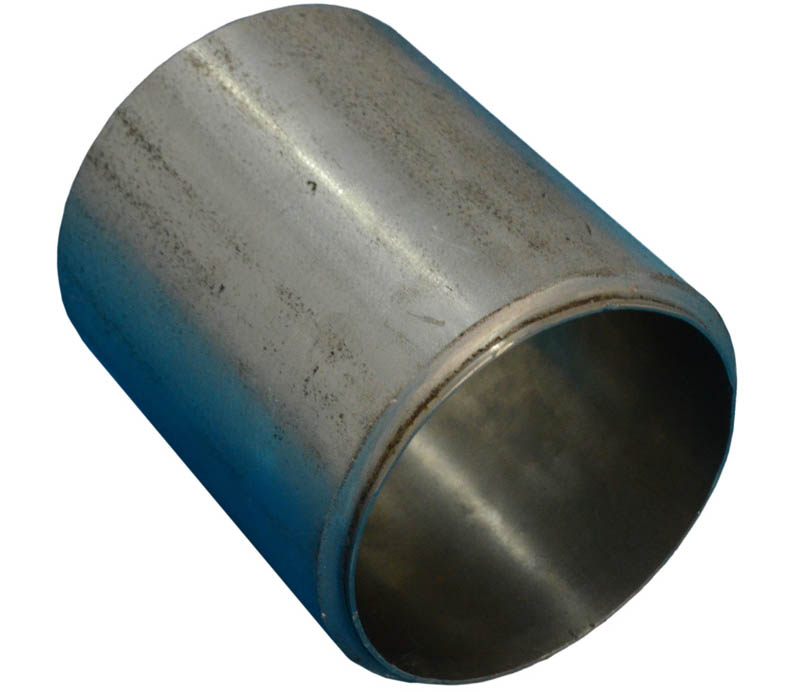 Metal pipes materials series (bimetal clad pipe, multi metal clad pipe)
Category: cooper-steel clad pipe, stainless steel-copper pipe, stainless steel-steel clad pipe; titanium-steel clad pipe, titanium-stainless steel clad pipe, nickel-steel clad pipe, nickel-stainless steel clad pipe, nickel-cooper clad pipe, zirconium-steel clad pipe, tantalum-steel clad pipe.
Spec: OD: φ20-φ2000mm, Wall Thickness/WT: 2.5-50mm Length: 3,000-12,000mm
Bimetal clad steel pipe
It is a new type of wear- resistant and corrosion-resistant pipe. Especially, its excellent wear-resistance and corrosion-resistance and high pressure resistance make bimetal clad steel pipe can be used under any pressure class. Inside layer and outer layer bonded very well by explosive welding, metallurgical bonding interlay ensures reliability. Bimetal clad steel pipe are widely used in oil field, chemical industry, electric power industry. With wider and wider applications, it brings us more economic, environmental, social benefit obviously.
The basic principle: the outer base metal is responsible for the pressure bearing and pipe supporting rigidly, the inner clad metal assume the role of corrosion resistance. Different carbon steel with different DN and WT are chosen as outer base pipe according to medium flow and pressure requirement. Galvanizing steel pipe, longitudinal welded pipe, spiral pipe, running pipe for conveying low medium pressure fluid, like seamless steel tube, high pressure boiler, seamless steel tube for petroleum cracking process and pipe line.
OD: φ20-φ1,020mm,WT: 2.5-50mm
Austenitic-stainless steel, 304, 304L, 316, 316L, cooper base alloy, nickel base alloy, Hastelloy, titanium and titanium alloy, duplex stainless steel. Wall thickness of liner pipe is 0.3-4mm according to working life and welding technique.
CRA clad pipe and lined pipe application
CRA clad and lined pipe generally used in petroleum industries for special working conditions. For on shore and off shore pipeline systems, there are often contain the high S, H2S, and CO2 chemicals in the transportation fluids. When these values reached a certain content it will make a big corrosion to the pipelines in Carbon and Manganum steel material like API 5L pipes and ASTM A106 pipes. In this case, the CRA clad and lined pipe is applied for this.
Bimetal Clad PipeBimetal Clad Pipe Total 241 Products
1/11
Bimetal Titanium Stailess Steel Clad Tube/Pipe
Bimetal Titanium Stailess Steel Clad Tube/Pipe
FOB Price: US $20-25 / Piece
Min. Order: 100 Pieces
Type: Titanium Pipes Application: Industrial, Medical
Technique: Per Customer Request Grade: All Gr Series
Shape: Round Size: Customized
Contact Now Inquiry Basket
Corrosion Resistant / Anticorrosion Bimetal Clad Pipe
Corrosion Resistant / Anticorrosion Bimetal Clad Pipe
Min. Order: 1 Piece
Feature: Oil, Chemical,, Electric Power Industry Size: Customized Specification
Specification: ISO SGS Trademark: Forhome
Origin: Hunan, China
Contact Now Inquiry Basket
Stainless Steel-Steel Bimetal Clad Pipe
Stainless Steel-Steel Bimetal Clad Pipe
Min. Order: 1 Piece
Feature: Oil, Chemical,, Electric Power Industry Size: Customized
Specification: ISO SGS Trademark: Forhome
Origin: Hunan, China
Contact Now Inquiry Basket
Titanium/Steel Bimetal Clad Pipe
Titanium/Steel Bimetal Clad Pipe
Min. Order: 1 Piece
Feature: Oil, Chemical,, Electric Power Industry Size: Customized
Specification: ISO SGS Trademark: Forhome
Origin: Hunan, China
Contact Now Inquiry Basket
Explosion Welding Zirconium-Steel Bimetal Clad Pipe
Explosion Welding Zirconium-Steel Bimetal Clad Pipe
Min. Order: 1 Piece
Feature: Oil, Chemical,, Electric Power Industry Size: Customized
Specification: ISO SGS Trademark: Forhome
Origin: Hunan, China
Contact Now Inquiry Basket
Customized Explosive Welded Tantalum/Steel Clad Pipe in Oil-Gas
Customized Explosive Welded Tantalum/Steel Clad Pipe in Oil-Gas
Min. Order: 1 Piece
Application: Construction, Ocean, Aerospace, Electronics, Metallurgy, Salt, Chemical, Petroleum Certification: API, ISO, BSI, CE
Material: Tantalum+Steel Clad Pipe Feature: Oil, Chemical,, Electric Power Industry
Size: Customized Product Name: Customized Explosive Welded Tantalum/Steel Bimetal
Contact Now Request Sample Inquiry Basket
Bimetal Pipe of Beryllium Copper, Copper Alloy Anticorrosive Material
Bimetal Pipe of Beryllium Copper, Copper Alloy Anticorrosive Material
Bimetal Pipe of Beryllium Copper, Copper Alloy Anticorrosive Material
Bimetal Pipe of Beryllium Copper, Copper Alloy Anticorrosive Material
Bimetal Pipe of Beryllium Copper, Copper Alloy Anticorrosive Material
Bimetal Pipe of Beryllium Copper, Copper Alloy Anticorrosive Material
Bimetal Pipe of Beryllium Copper, Copper Alloy Anticorrosive Material
Bimetal Pipe of Beryllium Copper, Copper Alloy Anticorrosive Material
Bimetal Pipe of Beryllium Copper, Copper Alloy Anticorrosive Material
Min. Order: 1 Piece
Feature: Oil, Chemical,, Electric Power Industry Size: Customized Specification
Specification: ISO SGS Trademark: Forhome
Origin: Hunan, China
Contact Now Inquiry Basket
Beryllium Copper+Copper Bimetal Composite Pipe
Beryllium Copper+Copper Bimetal Composite Pipe
Min. Order: 1 Piece
Feature: Oil, Chemical,, Electric Power Industry Size: Customized Specification
Specification: ISO SGS Trademark: Forhome
Origin: Hunan, China
Contact Now Inquiry Basket
Explosion Welding Bimetal Copper/Steel Pipe
Explosion Welding Bimetal Copper/Steel Pipe
Min. Order: 1 Piece
Feature: Oil, Chemical, Electric Power Industry Size: Customized
Specification: ISO SGS Trademark: Forhome
Origin: Hunan, China
Contact Now Request Sample Inquiry Basket
Explosive Cladding Bimetal Beryllium Cobalt Copper-Copper Pipe
Explosive Cladding Bimetal Beryllium Cobalt Copper-Copper Pipe
Min. Order: 1 Piece
Feature: Oil, Chemical,, Electric Power Industry Size: Customized Specification
Specification: ISO SGS Trademark: Forhome
Origin: Hunan, China
Contact Now Inquiry Basket
Anticorrosion Explosive Cladding Pipe
Anticorrosion Explosive Cladding Pipe
Min. Order: 1 Piece
Feature: Oil, Chemical,, Electric Power Industry Size: Customized Specification
Specification: ISO SGS Trademark: Forhome
Origin: Hunan, China
Contact Now Request Sample Inquiry Basket
Bimetallic Beryllium Cobalt Copper/Copper Clad Pipe
Bimetallic Beryllium Cobalt Copper/Copper Clad Pipe
Min. Order: 1 Piece
Feature: Oil, Chemical,, Electric Power Industry Size: Customized Specification
Specification: ISO SGS Trademark: Forhome
Origin: Hunan, China
Contact Now Inquiry Basket
Beryllium Copper Clad Copper Pipe
Beryllium Copper Clad Copper Pipe
Min. Order: 1 Piece
Feature: Oil, Chemical,, Electric Power Industry Size: Customized Specification
Specification: ISO SGS Trademark: Forhome
Origin: Hunan, China
Contact Now Inquiry Basket
Explosive Welding Beryllium Copper/Copper Clad Pipe
Explosive Welding Beryllium Copper/Copper Clad Pipe
Min. Order: 1 Piece
Feature: Oil, Chemical,, Electric Power Industry Size: Customized Specification
Specification: ISO SGS Trademark: Forhome
Origin: Hunan, China
Contact Now Inquiry Basket
Copper Clad Steel Pipe by Explosion Welding
Copper Clad Steel Pipe by Explosion Welding
Min. Order: 1 Piece
Feature: Oil, Chemical,, Electric Power Industry Size: Customized
Specification: ISO SGS Trademark: Forhome
Origin: Hunan, China
Contact Now Inquiry Basket
Bimetallic Copper+Steel Clad Pipe
Bimetallic Copper+Steel Clad Pipe
Min. Order: 1 Piece
Feature: Oil, Chemical,, Electric Power Industry Size: Customized
Specification: ISO SGS Trademark: Forhome
Origin: Hunan, China
Contact Now Inquiry Basket
Copper Steel Explosive Welded Pipe
Copper Steel Explosive Welded Pipe
Min. Order: 1 Piece
Feature: Oil, Chemical,, Electric Power Industry Size: Customized
Specification: ISO SGS Trademark: Forhome
Origin: Hunan, China
Contact Now Inquiry Basket
Explosive Welding Stainless Steel/Steel Clad Pipe
Explosive Welding Stainless Steel/Steel Clad Pipe
Min. Order: 1 Piece
Feature: Oil, Chemical,, Electric Power Industry Size: Customized
Specification: ISO SGS Trademark: Forhome
Origin: Hunan, China
Contact Now Inquiry Basket
Bimetallic Titanium Clad Steel Pipe
Bimetallic Titanium Clad Steel Pipe
Min. Order: 1 Piece
Feature: Oil, Chemical,, Electric Power Industry Size: Customized
Specification: ISO SGS Trademark: Forhome
Origin: Hunan, China
Contact Now Inquiry Basket
Copper Aluminium Bimetallic Explosive Welding Clad Metal Bimetal Plate
Copper Aluminium Bimetallic Explosive Welding Clad Metal Bimetal Plate
Copper Aluminium Bimetallic Explosive Welding Clad Metal Bimetal Plate
Copper Aluminium Bimetallic Explosive Welding Clad Metal Bimetal Plate
Copper Aluminium Bimetallic Explosive Welding Clad Metal Bimetal Plate
Copper Aluminium Bimetallic Explosive Welding Clad Metal Bimetal Plate
Copper Aluminium Bimetallic Explosive Welding Clad Metal Bimetal Plate
Copper Aluminium Bimetallic Explosive Welding Clad Metal Bimetal Plate
Copper Aluminium Bimetallic Explosive Welding Clad Metal Bimetal Plate
Min. Order: 1 Ton
Standard: JIS, GB, ASTM, Nb Application: Metallurgical Industry,Electric Power Industry
Transport Package: Per Customers Requirement Specification: SGS ISO
Trademark: FORHOME Origin: Hunan Changsha
Contact Now Inquiry Basket
China Factory Aluminum-Stainless Steel Cryogenic Transition Joint for Heat Exchanger
China Factory Aluminum-Stainless Steel Cryogenic Transition Joint for Heat Exchanger
China Factory Aluminum-Stainless Steel Cryogenic Transition Joint for Heat Exchanger
China Factory Aluminum-Stainless Steel Cryogenic Transition Joint for Heat Exchanger
China Factory Aluminum-Stainless Steel Cryogenic Transition Joint for Heat Exchanger
China Factory Aluminum-Stainless Steel Cryogenic Transition Joint for Heat Exchanger
China Factory Aluminum-Stainless Steel Cryogenic Transition Joint for Heat Exchanger
China Factory Aluminum-Stainless Steel Cryogenic Transition Joint for Heat Exchanger
China Factory Aluminum-Stainless Steel Cryogenic Transition Joint for Heat Exchanger
Min. Order: 1 Piece
Application: Construction, Ocean, Aerospace, Electronics, Metallurgy, Salt, Chemical, Petroleum Certification: API, ISO, BSI, CE
Material: Tantalum+Steel Clad Pipe Feature: Oil, Chemical,, Electric Power Industry
Size: Customized Product Name: Customized Explosive Welded Tantalum/Steel Bimetal
Contact Now Request Sample Inquiry Basket
Bimetallic Clad Copper Tube Pipe
Bimetallic Clad Copper Tube Pipe
Bimetallic Clad Copper Tube Pipe
Bimetallic Clad Copper Tube Pipe
Bimetallic Clad Copper Tube Pipe
Bimetallic Clad Copper Tube Pipe
Bimetallic Clad Copper Tube Pipe
FOB Price: US $25-30 / Piece
Min. Order: 100 Pieces
Type: Copper Pipe Technique: Explosive Welding
Surface Treatment: Per Requirements Size: Customized Specification
Standard: GB Certification: ISO
Contact Now Inquiry Basket
Explosion Welded Titanium or Titanium Alloy Pipe Petrochemical Industry
Explosion Welded Titanium or Titanium Alloy Pipe Petrochemical Industry
Explosion Welded Titanium or Titanium Alloy Pipe Petrochemical Industry
Explosion Welded Titanium or Titanium Alloy Pipe Petrochemical Industry
Explosion Welded Titanium or Titanium Alloy Pipe Petrochemical Industry
FOB Price: US $20-25 / Piece
Min. Order: 100 Pieces
Type: Titanium Pipes Application: Industrial, Medical
Technique: Per Customer Request Grade: All Gr Series
Shape: Round Size: Customized
Contact Now Inquiry Basket