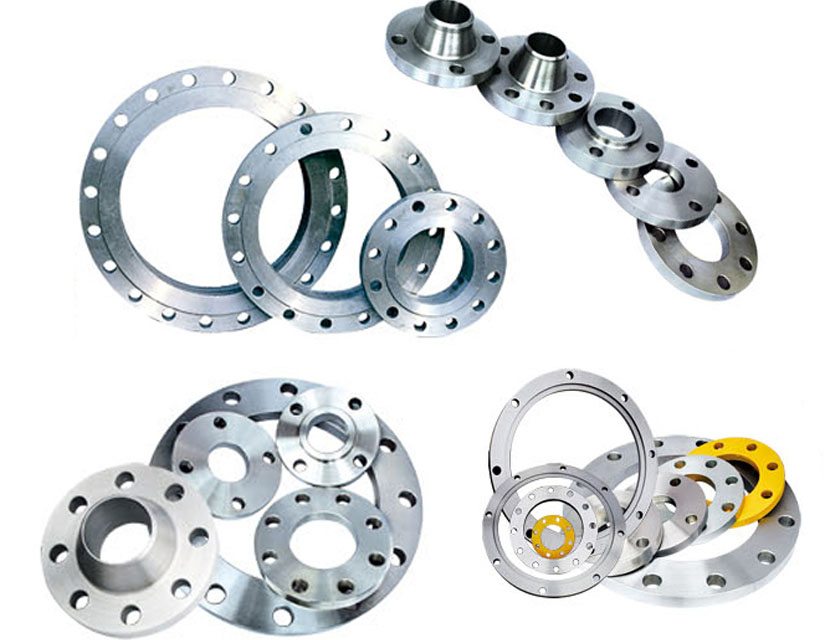 Pipeline System supplies a full range of Carbon steel Flanges from raw forgings to special fabrications for deliveries that are required with shortest possible lead times. Sizes are available from ½" – 48", We supply Slip-On; Weld-Neck; Blind; Screwed; Socket-Weld; Erhobenes Gesicht; Flat Faced; Ring Type Joint and Special design such as long weld-necks & special body connectors. A full range of standards including ANSI B16.5: Klasse 150; 300; 600; 900; 1500; 2500; NSI/ASME forged; MSS-SP-44; ANSI B 16.47 SERIES A & B API TYPE 6A; API-605; BS4504: PN6; PN10; PN16; PN25;PN40; BS10: Table D; E; F & H.
Materials of Flanges :
c-Stahl – ASTM/ASME SA-105, A-350 LF-2, LF-3, A694, SA-516-70, A36
CHROME ALLOYS – A-182-F-1, F-5, F-6, F-7, F-9, F-11, F-12, F-22, F-51
Edelstahl – A-182 – F-304, 304L, 316, 316L, 309, 310, 317L, 321, 347,
Legierung 20
Aluminium – 1100, 2014, 3003, 5083, 5086, 6061, 7075
Hastelloy – B-2, C-276, G, X
Inconel – 600, 601, 625, 718
INCOLLOY – 800, 825
Steel Plate Flanges offered can be made available by us in different dimension choices of class 150 as well as in standard & customized dimension options as preferred and demanded by the customers. With size options of up to 40′, these flanges can be offered in standard like ANSI, DIN, BS, JIS with type options including SO, BL, plate, thread and others. Some of its features include choice of free forging, plate cutting and casting process, availability in different pressure classes like PN10, PN16, PN40, PN100, rust-proof oil, galvanized and other coating support among others.
Beleg an Flanschen offered can be made available by us in different finish sizes from ½" up to 60" as well as choice of different materials like CARBON STEEL, LEGIERTER STAHL, SPECIAL ALLOY, Edelstahl, Duplex and super duplex stainless steel among others. Some of the industry standards these can be made available in include ANSI, DIN, BS, ISO, JIS, GB and others with varied industry applications including in petroleum sector, chemical sector, Energie, Metallurgie, Schiffbau, construction and others.
[showhide type="pressrelease"]Pressemitteilung hier.
Teconnex Ltd. – Expert Clamping Manufacturer – teconnex.com‎
Adwww.teconnex.com/home‎
Expert in Clamping Technology / Stand. & Bespoke Jointing Solutions
Bespoke solutions · UK made · Specialised clamping · Quality engineering · Top performance
Arten: V Clamps, Band Clamps, Ring Clamps
ProductsDistributors & Agents
Suchergebnisse
Carbon Steel Weld Flanges – Rohrverbindungsstücke – Ferguson
https://www.ferguson.com/…/carbon-steel…flanges/carbon-steel…flanges/carbon-steel…
Items 1 – 24 von 62 – Shop for Carbon Steel Weld Flanges at Ferguson. Ferguson is the #1 US plumbing supply company and a top distributor of HVAC parts, …
Kohlenstoffstahlflanschen – Texas Flange
www.texasflange.com/carbonsteelflanges.htm
Texas Flange provides Carbon Steel Flanges to many markets. Please give us a shot at your inquiry. Flanges we also provide: ANSI/ASME FORGED FLANGES
Kohlenstoff, Stehlen, & Alloy Pipe Flanges – Coastal Flange, Inc.
www.coastalflange.com/
Coastal Flange Works with all Material Grades. including Stainless Steel, Carbon and Alloy material. Our experience working with a wide variety of material …
‎ANSI Flanges · ‎Pipe Flanges · ‎Custom Engineered Flanges · ‎AWWA Flanges
Kohlenstoffstahlflanschen | Valfit
www.valfit.com/products/carbon-steel-flanges
1/2″ – 60″ RF, FF, RTJ 150#, 300#, 400#, 600#, 900#, 1500#, 2500#. – S.O. – W.N. – Gewinde – S.W. – Blind – Lap Joints – Verringerung der – Series A –
Kohlenstoffstahlflanschen | Service Metal
servicemetal.net/?page_id=159
Spec Sheets: Kohlenstoffstahlflanschen. Weld Neck Flanges: 150# – 300# – 600# – 900# – 1500# … Industry Standard Flanges: Blind Flanges – Class 125 · Schlüpfen …
Weld Fittings and Flanges | Kohlenstoffstahlflanschen – Shop Oil Supplies
www.shopoilsupplies.com/carbon-steel-flanges-s/27.htm
You are here:Zuhause > Carbon Steel Pipe Flanges … WB Supply's weld fittings and flanges conform to ASTM A105/ASME SA105/ASME B16.5 specifications.
[PDF-DATEI]Carbon Steel Weld Fittings & Flanges — List Price … – Matco-Norca
https://www.matco-norca.com/filesDownload.cfm?dl=WFF_List.pdf
Wall Dimensions: Standard & Extra Heavy. Spezifikationen: • ASTM/ASME A/SA 234-WPB. • ANSI B16.9, B16.28, and B16.25. Carbon Steel Weld Flanges. Größen:.
[PDF-DATEI]Carbon Steel Pipe Flanges – Dimensions and Weights – Atlas Steels
www.atlassteels.com.au/documents/carbon-steel-flanges-dimensions-and-weights.pdf
Klasse 150 Flanges to ASME B16.5. CARBON & STAINLESS STEEL FLANGES • Dimensions & GEWICHTE. BLIND. SLIP-ON WELDING (SOW). WELDING NECK …
Carbon Steel Flanges On Anchor Fluid Power
catalog.anchorfluidpower.com/category/carbon-steel-flanges
Browse Carbon Steel Flanges in the Anchor Fluid Power catalog including Carbon Steel Split Flange Head Adapters,Carbon Steel SAE 4-Bolt Flanges,Kohlenstoff …
Carbon Steel Fittings & Flanschen – MRC Global
www.mrcglobal.com/Global-Region/Default/Products/Carbon-Steel-Fittings-Flanges
MRC Global provides a wide selection of carbon steel fittings and flanges, einschließlich Butt-weld fittings, forged fittings and flanges and swaged nipples.
Anzeigen
Stahlrohre – Large Stock‎
Adwww.cleveland-steel.com/‎+44 1845 577789
Tubes for structural & construction Over 40,000 tonnes in Stock UK
Fast Delivery · £500 Minimum Order Charge · Vast Stock Range · Huge Stock
Services: Cutting, Schweißen, Shot-Blasting…
Chu Tei Fu Co., GmbH. – High Quality Stainless Steel Fittings‎
Adchuteifu.en.taiwantrade.com/Taiwan/Pipe_Fittings‎
Taiwan Manufacturer of Rohrverbindungsstücke/c-Stahl Rohrverbindungsstücke.
AIS Products – Val-Matic Valve‎
Adwww.valmatic.com/‎
Val-Matic American Made Stock Items Available for Your Immediate Needs.
Technical PapersContact UsProductsRepresentative DirectoryLiterature RequestVideos
Searches related to carbon steel flanges
carbon steel slip on flanges
weld on pipe flange
weld flanges dimensions
carbon steel blind flange
carbon steel flanges dimensions
weld flange types
slip on flange vs weld neck
slip on weld flange[/showhide]